[elementor-template id="3617″]
Rajasthan Indira Gandhi Smartphone Yojana Check eligibility of Indira Gandhi Smartphone Yojana from here
Rajasthan Indira Gandhi Smartphone Yojana Check eligibility of Indira Gandhi Smartphone Yojana from here : Objective of Indira Gandhi Smartphone Yojana: In the budget announcement of Honorable Chief Minister in 2022-23, it was announced to provide Internet connectivity with Smart Phone to the women heads of Chiranjeevi families.
This scheme has been named Indira Gandhi Smart Phone Scheme. In the first phase, the women heads of about 40 lakh Chiranjeevi families will be given the benefit of the scheme through one-time DBT.
Under this scheme, with the help of smartphones given to the beneficiaries, along with the security of girl students studying in far flung areas, they will be able to get information about the benefits of various schemes being run by the government for the deprived and weaker sections.
Along with this, information about various schemes and employment for the welfare of girl students and single widow women will be available by the state government.
Check Eligibility For Rajasthan Indira Gandhi Smartphone Yojana: Click Here
Rajasthan Indira Gandhi Smartphone Scheme
Rajasthan government will give Rs 6,800 through DBT for smartphone to Chiranjeevi family female head beneficiary
Rs 6,125 will be given for buying a smartphone and Rs 675 for 9 months internet data.
Beneficiaries can buy a smartphone worth more than the amount payable by the state government. The remaining amount will have to be paid by yourself.
Only 9 months are left in the current financial year. That's why internet data is given till March 31, 2024.
In the coming year from 1st April 2024 Rs 900 per year will be transferred from DBT for the next 2 years.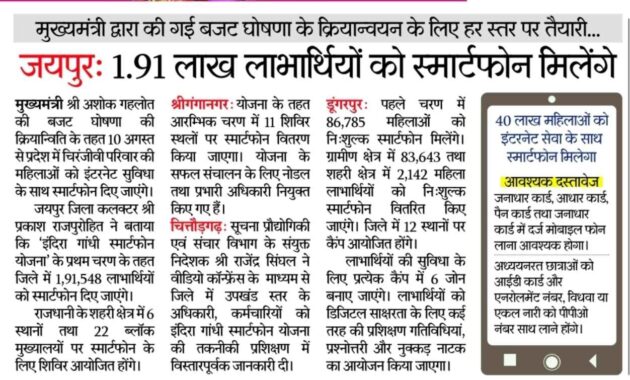 Rajasthan Indira Gandhi Smartphone Yojana Documents
ID card for girl students studying in 9th to 12th and higher educational institutions and
enrollment number
Janadhar Card, Aadhaar Card
PPO number for women getting pension
PAN Card (if any)
Rajasthan Indira Gandhi Smartphone Yojana Beneficiary
Girl students studying in class 9-12 in government schools
Girl students studying in government higher education institutions
Women receiving widow and single women pension, women heads of families who completed 100 days of work under the Mahatma Gandhi National Rural Employment Guarantee during the year 2022-23
Female head of the household who completed 50 days work under Indira Gandhi Urban Employment Guarantee Scheme
If the name of any eligible beneficiary is not there in the list, registration can be done on Rajasthan Sampark 181.
Important Links
[elementor-template id="3617″]